Hydraulic Hammer E-106 Enviro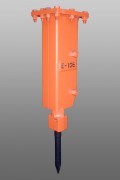 E-Series hydraulic hammers: more power and less noise
Advantages
Designed and produced by the world's largest manufacturer of Boom Mounted Attachments.
Worldwide sales and product support network.
Unique gas charged piston action produces less recoil and more power.
Variable blow frequency: flexibility to match work requirements.
Only two moving parts and fully sleeved main body: less and ease of maintenance.
Designed with sealed gas (N2) chamber – no rubber bladder accumulators.
Constant energy per blow: maintains high breakout force – not dependent upon blow rate.
Rapid and easy chisel replacement: reduces downtime to a minimum.
Replaceable tool bushings: prevent wear to main chisel holder body and enhance the life of the breaker.
Specification
| | |
| --- | --- |
| Model | E-106 |
| Excavator weight (ton) | 0.7 - 1.0 |
| Weight (kg) | 62 |
| Length with chisel (mm) | 872 |
| Oil flow (l/min) | 15-20 |
| Blow frequency (bpm) | 900-1200 |
| Min.excavator pressure (MPa) | 15~ |
| Chisel diameter (mm) | 41 |
Drawing