Crusher SV-7XR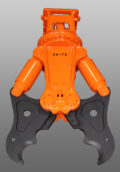 NPK®'s SV-Series, originally designed for the Japanese market, to demolish the earth quack proof buildings, is now well established in the European demolition industry as well.
The unique booster system on the SV-Crushers makes them the most powerful machines in their weight classes. The powerful crushing forces increase when jaws meet resistance as the booster converts flow to pressure. Competitive cylinder systems need larger cylinders to equal the force developed by the more compact NPK® booster system.
FEATURES
Two cylinders with one boosters.
High crushing force with larger jaw opening
High oil flow allowed: High closing and opening time
Less noise due to newly designed cylinder covers
Better weight balance with current excavator models
Excellent stability, even for high reach demolition
REPLACEABLE  TEETH (OPTIONAL)
The concrete crushers SV-7XR can be equipped with replaceable teeth, leading to easier replacement.The crusher can remain on site, while the teeth are changed or removed for refurbishment. Down time is therefore kept to an absolute minimum, greatly enhancing production.
Specification
| | |
| --- | --- |
| Model | SV-7XR |
| Excavator weight (t) | 6 - 9 |
| Weight (kg) | 745 |
| Max. jaw opening (mm) | 700 |
| Working pressure (MPa) | 28 |
| Oil flow (l/min) | 50 - 130 |
| Rotation pressure (MPa) | 14 |
| Rotation oil flow (l/min) | 15 - 30 |
| Max. force (A) (kN) | 470 |
| Max. force (B) (kN) | 720 |
| Max. force (C) (kN) | 1530 |
High Speed
| | |
| --- | --- |
| Opening time (sec.) | 0.9 |
| Closing time (sec.) | 1.8 |
| Total cycle time (sec.) | 2.7 |
| Number of cycles (sec.) | 22 |
| Oil flow (l/min) | 130 |
Drawing
Attachments