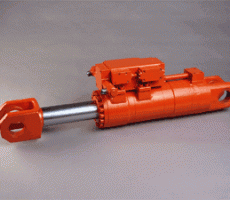 More power – more production
The NPK Powerbooster can be explained in 4 steps, as described above. As soon as the jaws meet resistance the extra speed is changed to extra power. Without concrete in the jaw, the booster creates more speed.
In the figures below an example is given of a S-23XCR.
---
Figure 1 shows the cycle time for several concrete thicknesses.
One cycle time is time for opening plus time for closing. It is clear
that the NPK Powerbooster is much quicker than a normal cylinder.
Figure 2 shows the fuel consumption for each cycle of breaking.
Compared to a normal cylinder the NPK Powerbooster cylinder
consumes 40% less fuel, at 600 mm thickness!
Schema of PowerBooster
PowerBooster step by step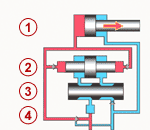 Jaw closing, no resistance: high speed
Excavator: 250 bar
Booster inactive
Control valve
Sequence valve closed
---

Jaws meet resistance: booster activated
Booster moves to right, pressure 850 bar!
Control valve lets oil flow to booster
Sequence valve opened
---

Resistance remains: high break-out force
Booster works two ways high pressure remains!
Control valve operates booster continuesly
Sequence valve remains open
---

Jaws open: high speed
Booster inactive no increase of pressure
Control valve in start position
Sequence valve opened