Cruncher U-31JXR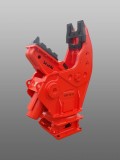 The crushing cruncher
Compared to NPK® G-series, the new U-cruncher shows important differences: one big center tooth. Because of the center tooth, all forces are concentrated to one point, which makes the U-cruncher act also as a crusher. Another advantage is the 360 degrees hydraulic rotation ( R ), allowing great manoeuvrability. Together with the center tooth and cutter the U-cruncher is an ideal tool for crushing and cutting walls, floors and light steel structures, such as apartments, reinforced walls, etc.
The cruncher is specifically designed to reduce oversized concrete pieces from ground level after they have been demolished. Simultaneously the reinforced steel will be separated from the concrete on site! This results in a significant reduction of transport costs and recycling becomes much more efficient.
The U-31JXR has an easy replaceable tooth plate on arm and frame. Due to these easy and quickly replaceable tooth plates, downtime has been reduced to a minimum.
High speed – extreme power
Like all NPK® crushers and crunchers, the U-model has the standard integrated booster system, a unique feature designed by NPK®. This booster system automatically activates whenever the jaws meet resistance. This pressure intensifier system has a relatively low oil flow and produces faster cycle times and more crushing strength. Additionally, other excavators functions remain uninfluenced. The integral booster allows a compact body design, reduces the total weight of the attachment and affords ease of maintenance.
Advantages
Standard integrated booster system that automatically activates when the jaws meet resistance.
Center tooth: more crushing power.
Hydraulic rotation 360° for precise positioning.
High productivity and extreme power.
No additional pressure reduction is required in the hydraulic system.
Specification
| | |
| --- | --- |
| Model NPK | U-31JXR |
| Excavator weight (ton) | 29 – 48 |
| Weight (kg) | 3455 |
| Max. jaw opening (mm) | 980 |
| Working pressure (MPa) | 28 |
| Oil flow (l/min) | 100 – 350 |
| Rotation pressure (MPa) | 14 |
| Rotation oil flow (l/min) | 10 – 15 |
| Max. force (A) (kN) | 1150 |
| Max. force (B) (kN) | 1540 |
Productivity
| | |
| --- | --- |
| Model NPK | U-31JXR |
| Opening time (sec) | 1.2 |
| Closing time (sec) | 2.1 |
| Total cycle time (sec) | 3.3 |
| Number of cycles (c/min) | 18 |
| Oil flow (l/min) | 350 |
Drawing