Cruncher U-21JXR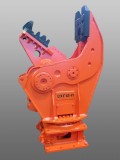 The crushing cruncher
Compared to NPK® G-series, the new U-21JXR cruncher shows important differences: one big center tooth and a center cutter. Because of the center tooth, all forces are concentrated to one point, which makes the U-cruncher act also as a crusher. Besides that, the new model has a relatively longer center cutter for cutting light steel structures, besides rebar. Another advantage is the 360 degrees hydraulic rotation, allowing great manoeuvrability. Together with the center tooth and cutter the U-21JXR cruncher is an ideal tool for crushing and cutting walls, floors and light steel structures, such as apartments, reinforced walls, etc.
The U-21JXR has an easy replaceable tooth plate on arm and frame. Due to these easy and quickly replaceable tooth plates, downtime has been reduced to a minimum.
High speed – extreme power
As all NPK® crushers and crunchers, the U-model has the standard integrated booster system, a unique feature designed by NPK®. This booster system automatically activates whenever the jaws meet resistance. This pressure intensifier system has a relatively low oil flow and produces faster cycle times and more crushing strength. Additionally, other excavators functions remain uninfluenced. The integral booster allows a compact body design, reduces the total weight of the attachment and affords ease of maintenance.
Advantages
Standard integrated booster system that automatically activates when the jaws meet resistance.
Center tooth: more crushing power.
Hydraulic rotation 360° for precise positioning.
High productivity and extreme power.
Standard center cutter for rebar and light steel structures.
No additional pressure reduction is required in the hydraulic system.
Specification
| | |
| --- | --- |
| Model NPK | U-21JXR |
| Excavator weight (ton) | 19 – 28 |
| Weight (kg) | 2325 |
| Max. jaw opening (mm) | 800 |
| Working pressure (MPa) | 26 |
| Oil flow (l/min) | 100 – 250 |
| Rotation pressure (MPa) | 14 |
| Rotation oil flow (l/min) | 10 – 15 |
| Max. force (A) (kN) | 645 |
| Max. force (B) (kN) | 885 |
Productivity
| | |
| --- | --- |
| Model NPK | U-21JXR |
| Opening time (sec) | 0.6 |
| Closing time (sec) | 1.3 |
| Total cycle time (sec) | 1.9 |
| Number of cycles (c/min) | 32 |
| Oil flow (l/min) | 250 |
Drawing