Hydraulic Hammers
Hydraulic hammer PH-series ( 6 models )

Advantages
Easier maintenance.
New valve system.
Slip Fit holder bush.
Bigger retainer pin.
Chisel same as GH-series.
Better balance with excavator.
Easy to switch to Anti Blank Hammering.
Lower weight.
Lower gas pressure (only 1,2 MPa).
No side bolts.
Carburized cylinder.
Less parts.
Hydraulic hammer GH-series ( 10 models )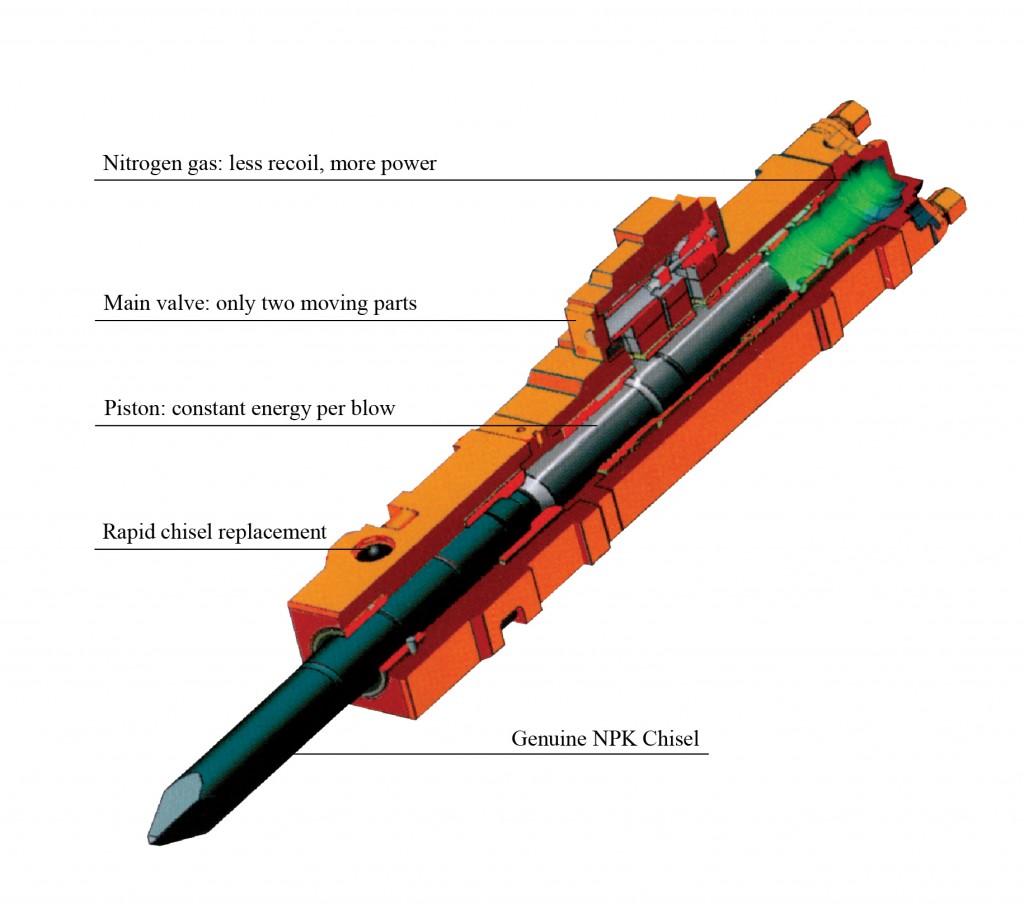 Advantages
Enviro bracket which encloses the hammer in the best possible way: reduces sound and vibration.
Underwater operation is easily adaptable from GH-6 and up.
Shock absorbing cushion rubbers (from GH-7A and up) absorbs vibration and protects integrity of excavator boom and arm.
Designed with sealed gas (N2) chamber – no rubber bladder accumulators.
Constant energy per blow: maintains high breakout force – not dependent upon blow rate.
Rapid and easy chisel replacement: reduces downtime to a minimum.
Replaceable tool bushings: prevent wear to main chisel holder body and enhance the life of the breaker.
Possibility to mount easily an automatic lubrication system from GH-7 and up.
Unique gas charged piston action. The Power of NPK®.
Shock absorbing Cushion Rubbers (from GH-7A): low vibration and low noise.
The Enviro brackets, utilize special heavy-duty rubber mounts to absorb shock, recoil and impulse vibration.
This unique NPK® feature minimizes machine wear and improves operator comfort for greater reliability and productivity.
Chisel (P)
Concrete breaking
Highway construction
General demolition
---
Chisel crosscut (FX)
Trenching
Cutting casting gates
Breaking oversize
General demolition
---
Chisel (E)
Secondary breaking
Breaking oversize
Slag removal
---
Core Chisel (PC)
The Core Chisel with its revolutionary steel core, provides extra hardness where it is required: at the point of impact. The benefit being less wear, increased productivity and lower replacements costs!
Read more about chisels in NPK technologies.